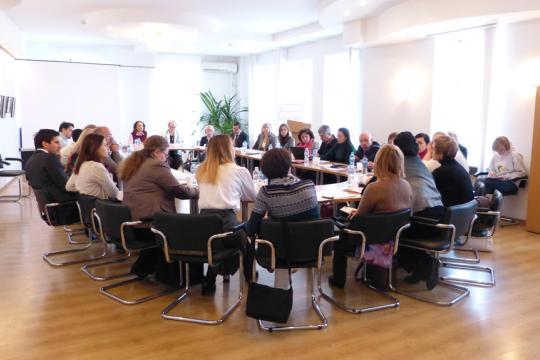 Status of child rights implementaion in Ukraine was discussed at the round tables
In December, the Ukrainian Child Rights Network organized 6 round tables in the cities of Kyiv (04.12), Dnipropetrovsk (05.12), Kharkiv (10.12), Odesa (11.12), Vinnytsia (12.12) and Lviv (12.12). The subject of these events was "Status of Child Rights Implementation in Ukraine: Place and Role of NGOs" that encouraged to join efforts, potential and resources of NGOs and charities to ensure children's rights in Ukraine.
As part of the roundtable discussions, experts discussed the problems, challenges and state of child protection sphere at the national and regional levels, the role of NGOs in the development and introduction of international standards of child rights protection, and also presented the Ukrainian Child Rights Network.
As a result round tables gathered 156 participants in all 6 cities, these were leaders and representatives of civil society organizations working on behalf of children and families support.
See more photos in the album.