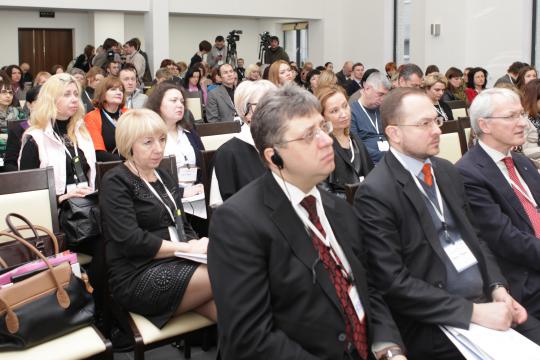 Unite for Children: Child Rights Network was established in Ukraine
On December 17-18, in Kyiv was held an International Conference "The Role and Impact of Civil Society Organisations and Networks in Child Protection – European and Ukrainian Perspectives". The event was organized by the Structural Subdivision of German-Polish-Ukrainian Society in Ukraine with the financial support of the German Federal Foreign Office.
The event brought together more than one hundred representatives of civil society organizations working on behalf of children and families support from all over Ukraine and Europe, thus the meeting became a platform for exchange of practices of social policy realization between European and Ukrainian NGOs.
During the conference the Ukrinian Child Rights Network was represented to the public and the authorities for the first time. The organization is representative and expert coordination body, formed by a group of NGOs in 2014 to strengthen child rights protection in Ukraine.
Among the speakers at the conference were Ukrainian and European politicians and experts, including Anka Feldhusen, Deputy Head of Mission, German Embassy to Ukraine, Aksana Filipishyna, Representative of the Ukrainian Commissioner for Human Rights on Rights of the Child, Non-discrimination and Gender Equality, Giovanna Barberis, UNICEF Representative in Ukraine, Dzvenislava Chaikivska, Deputy of the Lobby Group by Caritas Ukraine and others.
"Today's event is significant, as we present a new organization – the Ukrinian Child Rights Network, which united, I suppose, the greatest players from non-governmental organizations working in Ukraine," – said Aksana Filipishyna.
Participants were able to communicate with international experts in the field of child protection, representatives of networks of NGOs, among them were Maria Brestnichka, National Network for Children, Bulgaria, Christian Zainhofer and Paula Honkanen-Schoberth, German Child Protection League, Mirela Oprea, Child Pact, Barbara Maria Monheim, GPU Society Founder & Chairwomen, Dr. Terry Murphy, Social Work Department, Teesside University and others.
Representatives of European Networks of NGOs shared their experience in representing the interests of children and families and proved efficiency of their activities by virtue of consolidation efforts and coordination between CSOs, allowing to influence on government policy in the field of children's rights. Thus it was proven relevance of the Ukrainian Child Rights Network.
Tatiana Nosach, Managing Director of the UCRN, highlighted on the importance of networking: "When united, we will have less chances to forget about the rights of children in Ukraine. Ukrainian children will have fewer chances that their rights are violated, in such a cynical manner as it is now".
See more photos from the conference in the album.