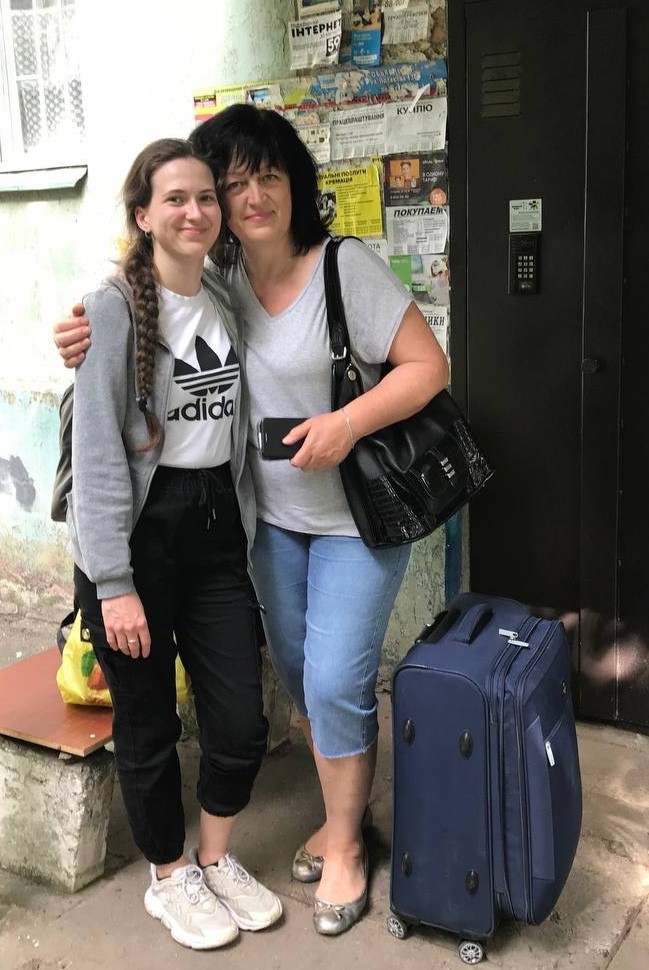 Ukrainian Child Rights Network facilitated the return of 20-year-old Angelina from the temporarily occupied Crimea
Twenty-year-old Angelina, who has a childhood hearing disability, returned home from the occupied Crimea. Last year, she had to escape to the peninsula on her own from Kherson, which had already been captured by the Russians. And only a year and three months later she was able to hug her parents again – thanks to the extraordinary efforts of her great aunt, as well as the Ukrainian Child Rights Network in tandem with the Ministry of Reintegration of the Temporarily Occupied Territories of Ukraine.
Originally from Zaporizhzhia, Angelina grew up in a family where the child was loved and cared for.
"An attractive girl with braids down to her waist," her aunt Antonina Ivanovna says of her.
On February 23, 2022, Angelina, a freshman at the Kherson Basic Medical College, came to continue her studies at the university after the coronavirus quarantine. And on the 24th, the first day of the full-scale invasion, I could not return home. The students who lived in the dormitory found their way around by communicating with each other in sign language and left. And for Angelina, her parents rented an apartment. Time passed while I was contacting my mother, and when I got to the train station, the trains to Zaporizhzhia were no longer running.
For two months, Angelina sat in front of a computer to know what was happening around her, because she could not hear the explosions. My mom was constantly in touch with her.
In early May, the girl miraculously managed to leave for the Crimea, to the city where her father's relatives lived.
For more than a year, she lived in a one-room apartment with two other people. During this time, everyone was grieving: relatives, because it is difficult to communicate with a person who cannot hear when you do not know sign language, and Angelina, because she was missing her mother. The whole big family tried to get the child home. It was not possible.
Eventually, at the end of May this year, Antonina turned to the Ministry of Reintegration to help her niece return. The Ukrainian Child Rights Network joined in, even though Angelina is an adult and not a beneficiary of the organization.
The girl was contacted within a few days. Angelina's mother communicated with her daughter via Skype, explaining in sign language what she was receiving.
"I am glad that Angelina was already in Crimea at the time of her aunt's appeal, because if she had been in the Kherson region, she would have had to undergo filtration. And so she managed to avoid this nightmare: it is not so easy to leave the occupied territories," says a person who participated in Angelina's return.
They decided that she would first go to Poland, where her older sister lives with her children in evacuation, and then come to Ukraine to study. But something didn't work out with the housing, and Angelina went home. The path was not easy, as in other cases of children's return.
Finally, on June 12, everyone who was waiting for the girl heard: "Angelina is in Ukraine." It all happened in less than two weeks.
Angelina and her mother are currently in Zaporizhzhia. Grandma is crying with happiness. At night, two domestic cats watch over the girl's sleep.
= = =
"The Ukrainian Child Rights Network is implementing a large-scale project
CHILDREN UA: MISSION – RETURN, aimed at finding and returning home children forcibly displaced to Russia or the temporarily occupied territories of Ukraine. Part of it is the "WAY HOME" project, which is implemented in partnership with Save the Children in Ukraine.
Our other partners are: Ministry of Reintegration of the Temporarily Occupied Territories of Ukraine, EDUKIDS Charitable Foundation, Media Initiative for Human Rights, Istanbul for Ukraine.
Anyone who cares can help us in this endeavor, which requires and will continue to require considerable resources. Click the SUPPORT US button and make your contribution.