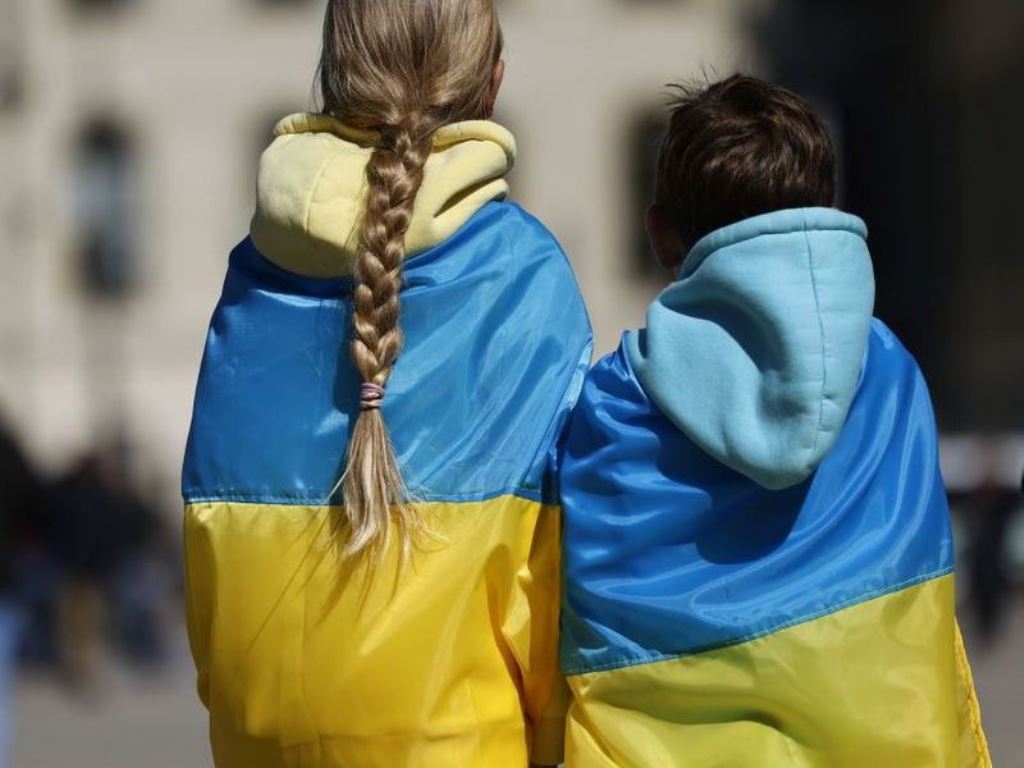 Ukrainian Child Rights Network helped to take two little sisters out of temporarily occupied Kakhovka
Two girls, aged 5 and 9, were taken out of the temporarily occupied Kherson region. Due to the circumstances caused by the war, their mother cannot take care of them. We are looking for a foster family for the children.
"There are children in Kakhovka who need help," we received this information from Tetyana Lomakina, Advisor to the Presidential Commissioner for Accessibility.
As it turned out, one girl has epilepsy, has a hard time with explosions, and has a great regression in her development. Her sister is with her.
The sisters were born and lived in Kakhovka. Since the beginning of the full-scale invasion, they have been staying in a city shelter. It was impossible to take the children away because from the first days of the invasion, this territory came under occupation.
A coincidence helped. We found out that there is a foster family that is currently trying to leave with the help of the Save Ukraine charity organization, founded by Mykola Kuleba, the Presidential Commissioner for Children's Rights in 2014-2021.
And since the sisters are children who can be taken into care or placed in foster care (in accordance with the innovations in wartime legislation), they need to have their documents restored so that they have legal grounds to go to a foster family. The Ministry for Reintegration of the Temporarily Occupied Territories of Ukraine and the Kherson Oblast Children's Service contributed to this.
Eventually, the family was taken out of Kakhovka. Our sisters came with her.
Now the children are in Kyiv – they are looking for a foster family.
The special rescue operation was successful again thanks to joint efforts: "The Ukrainian Child Rights Network, Save Ukraine, Advisor to the Presidential Commissioner for Accessibility Tetiana Lomakina, the Ministry of Reintegration of the Temporarily Occupied Territories of Ukraine, and the Service for Children of the Kherson Regional State Administration.
= = =
This case of rescue has not yet been defined. According to humanitarian law, these children are not deported or illegally displaced because they are from Kakhovka and lived there before the war. Says Darya Kasyanova, Head of the Board of the Ukrainian Child Rights Network:
"It's more about evacuating children who don't have their parents with them, and therefore they become hostages to the situation… Otherwise, parents grab their children, trying to take them to a safe place. They look for opportunities and money if they don't have it.
The situation is extremely complicated when these children have disabilities, developmental problems, and special educational needs. There is neither medical nor psychological assistance in the occupation.
That's why it was important to bring the girls from Kakhovka to the territory of free Ukraine so that they could access these services."
Darya Kasyanova also emphasized that before the war, there were many non-status children in shelters who were not orphans but had parents. Unfortunately, it is not always known where these parents are, and even if they are, they do not always take care of their children. And if such children do not have legal representatives, it is almost impossible to take them out of the occupied territories.
= = =
"The Ukrainian Child Rights Network is implementing a large-scale project CHILDREN UA: MISSION – RETURN, aimed at finding and returning home children forcibly displaced to Russia or the temporarily occupied territories of Ukraine.
You can make your contribution to the return of children, as it requires considerable resources. Please click the button
SUPPORT US
.
Photo – illustrative, from open sources